Founded in 2006, YETI Coolers virtually created the market for premium coolers by designing an extremely durable product with superior insulating properties for a variety of end markets and uses. The coolers are rotational-molded (the same process used to make whitewater kayaks) to ensure impact resistance and long-term durability.
Tundra Coolers
Where it all started. YETI creates a whole new category of coolers with legendary toughness and famed ice retention. The rugged, all-purpose Tundra in enough sizes to fit any outdoor adventure. With a good bit of its DNA in all the other gear YETI makes too, in the form of patented and envied innovations. Tundra 35, 45, 65 all stocked in tan and white; Tundra 90 stocked in white only. The Roadie 20 stocked in tan, white, and blue.
The full-frame ColdLock™ sealing gasket combined with thicker walls filled with premium insulation offers industry-leading ice retention. Other features include integrated T-latches that keep the lid securely closed, a full-length, self-stopping hinge; tie-down slots for solid mounting; and integrated padlock ports to make the coolers certified bear resistant.
The Hopper - Leakproof, Ice-for-Days, Tough-as-Nails Portable Cooler
The world's best (don't call if soft) portable cooler. Durable design and construction assure yuou a lifetime of estreme performance. Head to a sporting event or the beach, or simply lounge outdoors with your favorite beverage in tow with a YETI® Hopper Cooler. This convenient tote-style cooler lets you sling your snacks and drinks over your shoulder for easy transport. Hopper 20,30,40 stocked in gray and tan.
Brand New -- the Hopper Flip™ 12! Like the original Hopper™, the Hopper Flip 12 can withstand serious abuse in the field, even with everyday use. Its wide-mouth opening makes for easy loading and access to your food and drinks. Plus, its compact, cubed body allows for ultimate portability, never slowing you down. It's the only personal cooler that's game for full days in the tree stand, early mornings in the duck boat, or afternoons on the water. Stocked in gray/blue only.
The YETI Tank
The best times in life seem to involve good friends, family, and a healthy supply of ice-cold drinks nearby. So YETI designed the Tank to be the perfect centerpiece of all the fun. This nearly indestructible party machine is packed with our patented cold-holding insulation to keep your next backyard barbecue, tailgate, or beachside bonfire wilder, longer. Features DoubleHaul handles for hassle-free carrying. Tank 45 and 85 stocked in tan only.
Rambler Tumblers
Fill up a YETI® Rambler Tumbler with your morning coffee or refresh yourself with ice water throughout the day. The double-wall, vacuum-insulated, stainless steel construction ensures temperature retention and no condensation. Stocking in 10, 20, and 30 oz sizes, as well as the Coldster. Also carrying YETI® water bottle in 18, 36, and 64 oz.
Accessories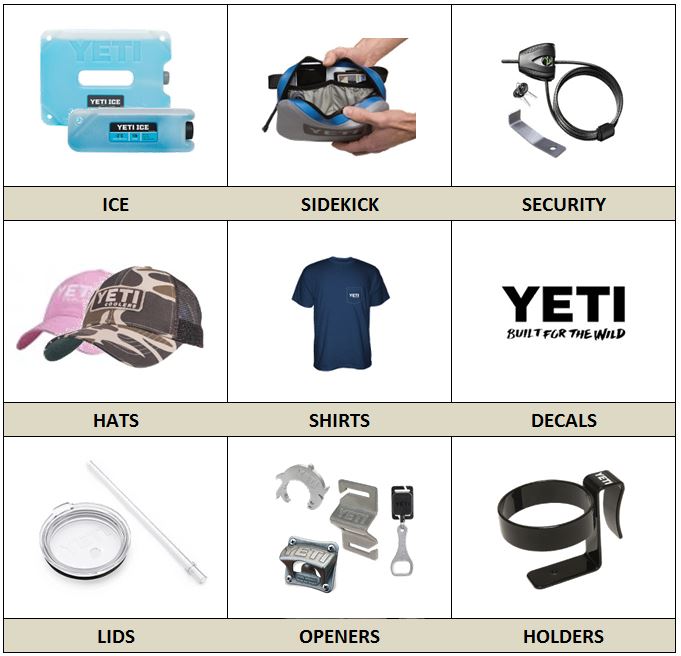 Catalog