For the contractor building one house or a whole subdivision; for the "Do-It-Yourself" homeowner; Hackmann Lumber has many different services to fit all of your needs such as Delivery, Experienced Sales Teams, Estimates and Take Offs, Key Cutting, Screen Repairs, and more!
Delivery

Need timely and accurate delivery of your order? Then discuss your project with our staff to set up delivery dates and times that fit your schedule. Hackmann Lumber has a fleet of delivery trucks that are on the move to deliver materials to your project site. We can deliver units of lumber to multiple levels with our boom truck saving contractors and developers time during construction. Also among our fleet, we have millwork and Moffett trucks ready to go whenever they are needed, as well as closed trailer box trucks to keep your materials safe from the weather.
Deliveries are made Monday through Friday, between the hours of 7:00am to 3:00pm. We offer delivery within 50 miles of our stores for $80 for orders under $5000, and free delivery for orders over $5000 within 50 miles. REGARDLESS OF ORDER TOTAL, there is an additional fee for deliveries over 50 miles. Add $40 for deliveries within 51-60 miles. Add $80 for deliveries within 61-70 miles. Add $120 for deliveries within 71-80 miles. Call for quote over 81 miles.
Dedicated and Experienced Sales Teams
Hackmann Lumber has sales staff available to provide support for the commercial contractor needs. Whether it be a large or small project our experienced sales & delivery staff can provide the types of products and service level needed for your situation.
Estimates and Take Offs
Let our wealth of experience help you quote your projects with free estimates and take offs that you can trust. We work with the area's largest home builders, commercial developers, and contractors providing the calculations you need for getting your project done.
Key Cutting and Screen Repairs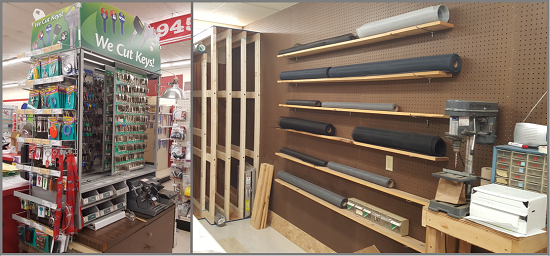 With our classic hardware store charm we offer precise key cutting as well as screen repair. Our screen repairs normally have a week turnaround time. The cost for window screen repairs are typically $10-$20 per screen, and the cost for repairs to a patio door screen is typically $20-$30. There is a deposit of $10 per screen at drop-off that will be applied towards your final bill when your order is ready for pick up.
Bring in your hardware needs to your local Hackmann Lumber's Service Desk and we will give you the personalized service you deserve.