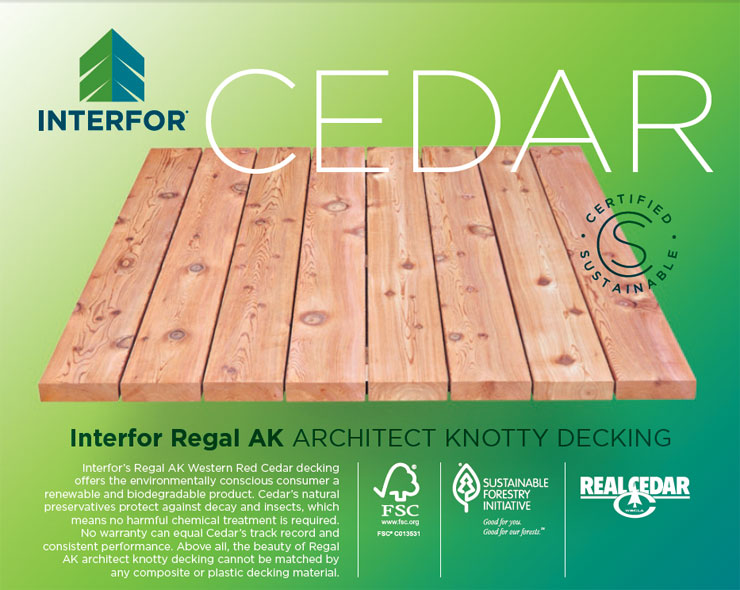 Cedar is a smart choice for decking because it is beautiful and contains natural oils and resins that make it resistant to rot, decay, and insects. Cedar also stays cool to the touch in the hot summer sun. At Hackmann, we proudly stock high-quality Western Red Cedar from Interfor in Regal Architect Knotty and Special Appearance grades.
Interfor's Regal Architect Knotty Decking meets AND exceeds architect knotty standards. Knots are sound and tight not to exceed 2-7/8" diameter and holes are not permitted. Wane is limited to ¼" thickness and ¼" width on the reverse face only. We offer lengths up to 20'. For the beauty of a real wood deck, select Hackmann's Regal Architect Knotty Cedar Decking.
Interfor's Special Appearance Grade Timbers, Boards, and Fascia add a unique warmth and rustic charm to interior and exterior projects alike. This superior Western Red Cedar features a rich, auburn coloring with a straight, uniform grain and even texture. This appearance grade no-hole knotty cedar has four square edges. Special Appearance Grade Cedar from Interfor is sure to please for any project requiring handsome wood.
We stock cedar decking and railing in S4S (smooth on all four sides); fascia, risers, and trim in S1S2E (smooth on one side and two edges); and posts in Rough Sawn which is a full rough cut on all four edges with a high-quality appearance. We're pleased to offer you this superior Western Red Cedar in the following dimensions:
Cedar Decking S4S
2x4 - 8' 248S4S, 10' 2410S4S, 12' 2412S4S, 16' 2416S4S (actual 1-9/16" x 3-9/16") Regal AK
2x6 - 8' 268S4S, 10' 2610S4S, 12' 2612S4S, 14' 2614S4S, 16' 2616S4S, 18' 2618S4S, 20' 2620S4S (actual 1-9/16" x 5-9/16") Regal AK
Cedar Railing - Smooth S4S
2x4 - 8' 248S4S, 10' 2410S4S, 12' 2412S4S, 16' 2416S4S (actual 1-9/16" x 3-9/16") Regal AK
2x6 - 8' 268S4S, 10' 2610S4S, 12' 2612S4S, 14' 2614S4S, 16' 2616S4S, 18' 2618S4S, 20' 2620S4S (actual 1-9/16" x 5-9/16") Regal AK
2x8 - 8' 288S4S, 12' 2812S4S (actual 1-9/16" x 7-9/16") Appearance
Cedar Fascia, Risers, and Trim S1S2E
1X4 - 8' 148S1S2E, 10' 1410S1S2E, 12' 1412S1S2E, 16' 1416S1S2E (actual 3/4" x 3-9/16") Appearance
1X6 - 8' 168S1S2E, 10' 1610S1S2E, 12' 1612S1S2E, 16' 1616S1S2E (actual 3/4" x 5-9/16") Appearance
1X8 - 8' 188S1S2E, 10' 1810S1S2E, 12' 1812S1S2E, 16' 1816S1S2E (actual 3/4" x 7-3/8") Appearance
1X12 - 8' 1128S1S2E, 10' 11210S1S2E, 12' 11212S1S2E, 16' 11216S1S2E (actual 3/4" x 11-3/8") Appearance
Cedar Posts - Rough Sawn
4X4 - 8' 448C, 10' 4410C, 12' 4412C (actual 3-1/4" x 3-1/4") Appearance
6X6 - 8' 668C, 10' 6610C, 12' 6612C, 14' 6614C, 16' 6616C, 20' 6620C (actual 5-1/2"x 5-1/2") Appearance
Cedar Posts - Smooth S4S
4x4 - 8' 448S4S, 10' 4410S4S, 12' 4412S4S (actual 3-9/16" x 3-9/16") Appearance
Cedar Balusters - S4S and Smooth Beveled One End
2x2 - 8' 228S4S (actual 1-9/16" x 1-9/16") Regal AK
2x2 - 42" 22PICC Smooth Picket, Beveled on One End